Our seventh hackathon explored inclusive design from two perspectives. One is to making a businesses and services more accessible. The second revolves around the idea of re-designing or re-inventing one of your creations, products or goods.

Team 1: Young Centre For The Performing Arts
The Young Centre for the Performing Arts was envisioned by George Brown College and Soulpepper Theatre Company to be a home to Toronto's arts community and a destination for all theatre lovers. Anchored by the presence of Soulpepper's year-round repertory season and George Brown College's Theatre School, the Young Centre provides a home for both the leading artists of today, as well as the arts leaders of tomorrow. Find out more here.
Challenge
Guests requiring wheelchair accessible seats are not able to purchase seats online and are required to phone ahead to the box office. Occasionally this gets missed by person on the website, and they follow through the ticket purchase in seats that are not accessible
Solution
● Mark location of accessible seats using icon
● Clearly show the location of, Entrance points, Stairs, Stage, Balcony
● Make contact information more obvious
● Make call to action to click the map more readable
● Provide pictures to show what the view looks like from the seats
● Assign designated accessible seats
Prototype

Team YOUNG CENTRE FOR THE PERFORMING ARTS's Prototype

Team 2: EverGreen Brick Works
Evergreen is helping make cities flourish. Cities that are low carbon, inclusive to all and sustainable at their core. Cities to live, move, work, play, learn and thrive in. Since 1991, Evergreen has been facilitating change. Working with other city builders to convene, collaborate and catalyze ideas into action. Their teams connect with many stakeholders to lead with a mindset focused on solutions. They collaborate to develop innovative ideas and catalyze change by testing solutions, developing prototypes and scaling projects. Find out more here.
Challenge
To create a multi-sensory trail experience for those with mobility limitations, and hearing and visual impairments.
Solution
Smart Brick. What it does:
Basic Explorer
● Identifies- what surrounds you- birds, foliage, industrial buildings
● Indicates direction
● Signals when you're walking in dangerous area (ie you're about to fall into pond)
● Identifies what you can touch, sit, hear
Educated Explorer
● Describes sounds, sights and significance of each
● You can choose to hear the sounds of the birds that live here, the types of brick that surrounds you, the source of smell.
Prototype

Team EVERGREEN BRICK WORKS' Prototype

Team 3: In the Soil Arts Festival
In the Soil Arts Festival brings Niagara artists from a range of disciplines together to provide unique audience experiences. The festival nurtures the creation of new work, showcases talent, encourages innovation, offers learning opportunities for youth and provides intimate and uncommon platforms for audiences to experience work by contemporary performing and literary artists, musicians and media artists. In the Soil is Niagara's homegrown arts festival and is working to make a Niagara that is self-determining and culturally distinct. Find out more here.
Challenge
Presenting an accessibility map for outdoor festival hub and every venue of the festival.
Solution
● A simplified map designed inclusively
● Includes icons and symbols readable in braille
● Map is simplified at a higher level of abstraction
● This makes navigation easier for all people, Including the visually impaired.
● Incorporating different types of accessibility
● Accessibility feature symbols: Interpretation, Hard of hearing, Amplification, Braille, Closed Captioning, Visually
Prototype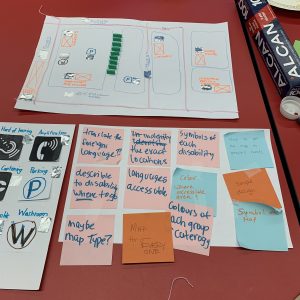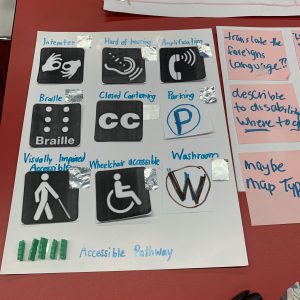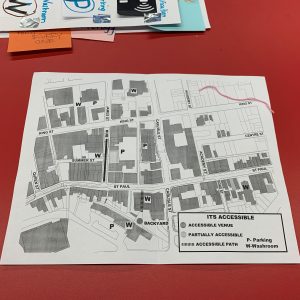 Team IN THE SOIL ARTS FESTIVAL Hack' Prototype

Team 4: Scotiabank Arena
Scotiabank Arena, formerly the Air Canada Centre, is a multi-purpose arena located on Bay Street in the South Core district of Downtown Toronto, Ontario, Canada. It is the home of the Toronto Maple Leafs of the National Hockey League (NHL), the Toronto Raptors of the National Basketball Association (NBA) and the Toronto Rock of the National Lacrosse League (NLL). Scotiabank Arena has, from its initial design to completion, revolutionized many concepts included in new arenas and stadiums built since then. These features include luxury suites accessible on the ground floor, splitting the main scoreboard into several sections, rotating all sponsor signage in the bowl at once (to allow dominant messaging or "neutralization" for events that disallow commercial advertising), and multiple restaurants in and out of the main arena bowl view. Scotiabank Arena also hosts other events, such as concerts, political conventions and video game competitions. Find out more here.
Challenge
To create a list of needs of the community of people with disabilities and identify which ones are covered, which are not and suggest some solutions for the ones that are not covered or improve ones that are already in place. You should include: website, facilities, marketing and communications and performances.
Solution 1
● NLP software
● Speech-to-text screens
● Microsoft Hololens 2
● Augmented in-seat reality
Prototype

Team SCOTIABANK ARENA Hack' Prototype

Team 5: Idita Design Services
Professional services in industrial design, architectural design, urban design/planning, graphic design, web design, user experience design (UX), user interface design (UI) and user interaction design (IxD). IDITA is sensibly concerned about human factors and their influence in the design process, therefore we consider carefully sustainability, culture, ergonomics, new technologies and their impact on society. It also welcomes international projects and collaborations, providing services in English, French, Spanish and Italian. Find out more here.
Challenge
Studio providing product, architectural and graphic design services to business and startups.Better communication with clients in an interactive and easy way. Make them understand what is design and the design process.
Solution
● Digital Funnel: information collection
● Design Crash Course of design process: instruct clients beforehand
● Design Your own Style: digital game looking for a friendlier and fun approach
Prototype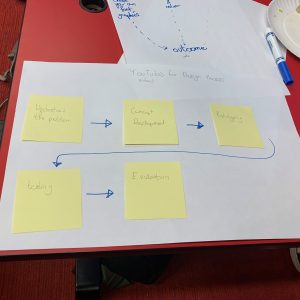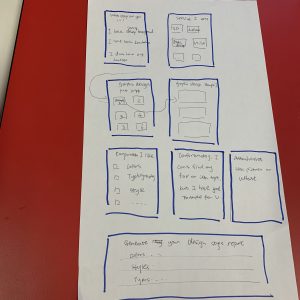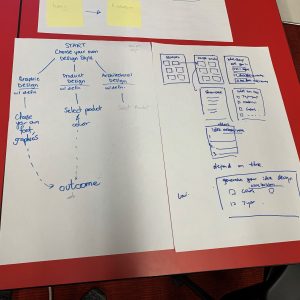 Team IDITA DESIGN SERVICES Hack' Prototype

Team 6: Worship Practices
To facilitate full participation for people with disabilities, it is essential to address many areas of inclusion. It is not enough to make sure that your new member can get in the door and use the restroom. There is more that can be done to foster a cultural shift in the congregation to develop a better understanding of inclusion and accessibility and the experience of members with disabilities. To learn mover visit Our Doors Are Open project: opendoors.idrc.ocadu.ca
Challenge
A practice integral to various forms of religious service is the burning of incense using charcoal. This has unintentionally caused harm to individuals with invisible disabilities. Both of these can cause a variety of breathing difficulties which can compromise service experiences and overall health. Those affected could feel excluded from services including traditional use of incense.
Solution
● Solution is implemented into the services where traditional incense is currently used, including major holidays and festivals.
● This still allows for a minority of services where traditional incense can still be used. This would be clearly communicated to all community members.
● A commitment to hold scent-free and smoke-free services on all days where traditional services are held, earlier in the day.
● Both forms of service, alteration of pattern of procession to ensure a scent-free/smoke-free portion of the space.
Prototype