Our sixth hackathon explored inclusive design from two perspectives. One is to making a businesses and services more accessible. The second revolves around the idea of re-designing or re-inventing one of your creations, products or goods.

Team 1: Arc'teryx
Challenge
How can we make a more accessible zipper while still maintaining its function for outdoor use?
Solution
We found that velcro was our best solution. High-quality velcro will last longer and will not compromise the durability of the jacket or seal.
Offering different coat lengths (zipper lengths) for different body types and disabilities.
Potential idea for a plastic silhouette where the double zip can be more easily secured.
Prototype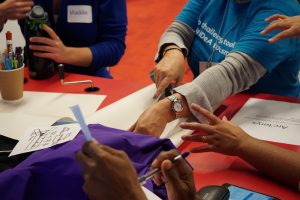 Team ARC'TERYX Hack's Prototype

Team 2: Bank of Montreal
Challenge
How can the BMO make easier for people to find the meeting places that they have booked online?
Solution
App for personal cellular that:
● Book the room and
● Guides to get there
Prototype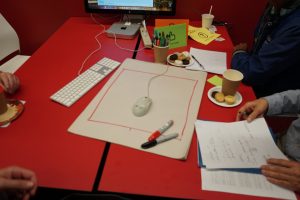 Team BANK OF MONTREAL's Prototype

Team 3: Metrolinx
Challenge
A city wants to install protected bike lanes along a main road, but specialized transit customers need to be picked up and dropped off. In the current design they either have to cross the bike lane or the transit vehicle has to block the bike lanes. What can be done?
Solution
● Protected sidewalk cut-outs are best but require wide sidewalks.
● When sidewalks are narrow the road could curve from side to side to leave drop-off zones for bus and Wheel-Trans passengers and for commercial deliveries.
Prototype

Team 4: Royal Ontario Museum
Challenge
How to improve the museum experience for visitors of all abilities, in particular in regards to way-finding and individual experiences with museum displays.
Solution
Using visitor's own smart devices (location aware, ie. beacon, GPS, QR codes or other technologies) or museum supplied device to provide way-finding and deliver content and experience.
Contemplation space(s) with books, computer stations, braille books/large print books, tactile stations etc.
Special ticketed entry times to meet the needs of visitors with diverse needs.
Prototype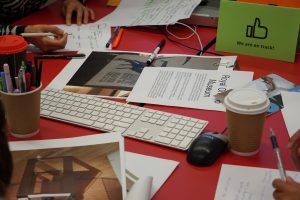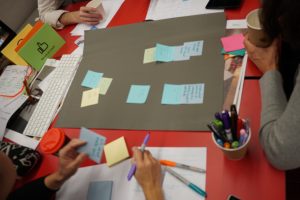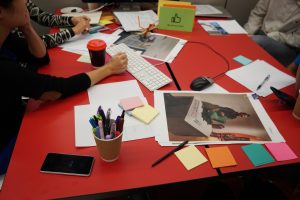 Team ROYAL ONTARIO MUSEUM Hack' Prototype

Team 5: Teathers
Challenge
● Teather, a local theatre company has developed accessible programs and services
● Willing to engage all elements of the disability communities
● Launch an accessible campaign to reach extended target audience
Solution: Exterior Connext
● Reaching out key disability communities: CWDO, CILT, CPA, CNIB, ASL, LSQ, Toronto Mental Health
Association, March of Dimes
● Arrange an interview with a theatre representative to talk about the fully accessible theatre experience
on CFRB
● Links on the theatre website, facebook, twitter etc. to presentations of accessible theatre experience in
different format: sign language, captioned
● The first time comers get 50% discount
● Public education: accessibility ads posters inside/outside the theatre while attracting general public
using an open library, colorful surroundings etc.
● Distribute newsletter each month in a year to promote new coming accessible features
● Possible new features:
● Wireless access in the theatre to provide audience with different format of audio/video to explain
the show based on their needs
● Allow and help people who have accessibility issues to play their own show rather than being
audience only
Prototype

Team 6: Toronto Symphony Orchestra
Challenge
TSO has recently received a patron suggestion to explore how the TSO may
better educate patrons on Multiple Chemical Sensitivity.
The challenge is reducing the harmful effects that scented products have on
patrons encouraging everyone to "Go Scent/Fragrance-Free".
Solution
● Creating an educational campaign
● Graphics
● Updated awareness: explaining exactly what Multiple Chemical Sensitivity is and how it affects patrons
● Peer to peer marketing: a video presentation
● Opt-in message during purchase path to self-identify Multiple Chemical Sensitivity
● Would link to further information and allow for follow-up directly from the organisation
● Creation of buttons
● Creation of scent free section
● When you buy ticket in area, a pop-up explains that it's a scent-free
section and what that means
Prototype